PLEXUS JOYOME FACE CLEANSER
---
PLEXUS JOYOME FACE CLEANSER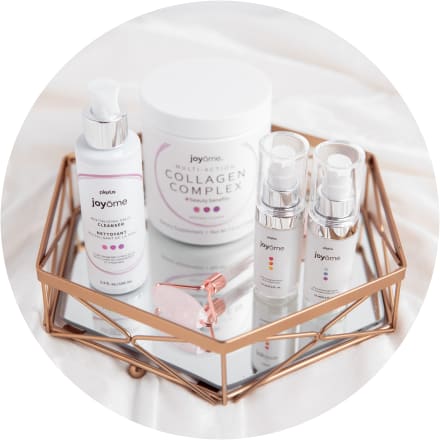 Joyōme Revitalizing Day Cleanser




Gently cleanse, prep and refresh
Radiate confidence with refreshingly clean skin. Joyome® Revitalizing Daily Cleanser gently washes away dirt, oil and makeup, leaving your skin feeling soft, smooth and hydrated. This revitalizing formula is infused with cranberry extract to gently exfoliate, while natural prebiotics reduce moisture loss and is pH formulated to support a balanced and healthy skin microbiome. 
Benefits
Gently removes dirt, oil, and makeup that could lead to clogged pores.

Helps restore and repair the skin's moisture barrier.

Leaves skin feeling soft, smooth and hydrated.

Promotes cellular turnover to reveal fresh-looking, more radiant skin.

Conditions and primes the skin so that every product applied thereafter penetrates and works better.
Features
Synergistically designed to work with Illuminating Day Serum and Intensive Overnight Repair to optimize results

Gentle enough to use every day

No harsh cleansers

Refreshing cranberry mandarin scent

Meets Joyome consciously clean standards
How to Use
Apply one pump to wet face. Massage into a lather, avoiding direct contact with the eyes. Rinse thoroughly with lukewarm water. For best results, use twice daily.



Plexus Joyome Face Cleanser Featured Ingredients
Cranberry Fruit Extract – A fruit extract rich in natural protease enzymes that gently exfoliate to remove impurities
Rejuvenating Siberian Ginseng root extract and Rhodiola Rosea extract – A source of plant-based antioxidants that helps to visibly de-stress your skin
Hydrolyzed Jojoba Esters – An emollient agent that helps enhance skin moisturization and supports the skin microbiome leaving your skin feeling smooth and soft.
Plexus Products for Holistic Health and Wellness
---
---
The Plexus Preferred Customer program
Try Plexus Products Risk-Free! 
60-Day Money Back Guarantee
We are 100% committed to your health and happiness, and want your  absolute satisfaction as a Plexus customer. If you are unsatisfied with  a product, you have a full 60 days from the date of purchase to request  a full, prompt refund. No hassles, no questions.
Please note:
This guarantee can only be used once per product and excludes certain promotional items.
ORDER today!
Or call independent Plexus Ambassador,
Michelle Exley at (573) 275-9995 to place your order over the phone.