Plexus Joyome Skincare – Joy Looks Good on You ™
---
PLEXUS JOYOME SKINCARE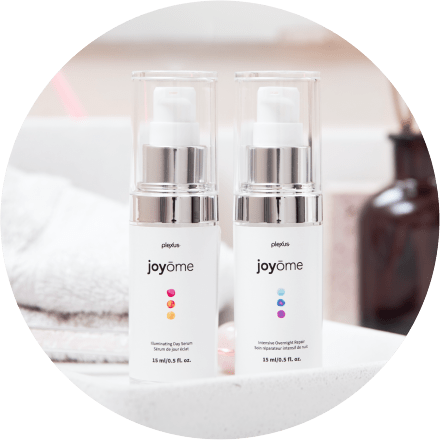 Plexus Joyome Skincare
Better Skincare,
For Better Looking Skin
The average American woman uses a whopping 16 beauty products before leaving the house…every day!† 
That adds up to a lot of time and money, and the worst part is, most of those products don't even work. They claim to "treat" surface level problems, but they use low-quality ingredients that don't address the root causes of an aged appearance.
The truth is, your skin is fighting a constant battle in an effort to maintain a healthy-looking, youthful appearance. At the heart of this battle is your skin's microbiome. This is the  delicate balance of microbes, both good and bad, that live on your skin. When these microbes are balanced in a beneficial way, they help protect your skin from environmental age accelerators that can affect your skin's appearance.
The best skincare solution is one that works to balance your skin's microbiome while also actively fighting signs of aging.
Introducing Plexus Joyome Skincare, the revolutionary skincare regimen that uses 11 active ingredients along with a patent-pending Microbiome Balancing Complex to correct and protect your skin barrier, replenish moisture, renew radiance, and restore a youthful-looking glow. With a simple, two-step regimen, Joyome helps you achieve what some other skincare products can't – skin that looks and feels absolutely beautiful.
It's the skincare you've been waiting for, and the skin you've always wanted. Don't wait to get the results you deserve!
Brighten Your Day.
The Joyome Illuminating Day Serum features six active ingredients
that work together to help reverse the visible signs of aging. Leading-edge peptides relax and soften the appearance of expression lines, Hyaluronic Acid draws in moisture for a plump and volumized look, and Eyeseryl Peptide reduces the appearance of puffiness and dark circles around the eyes. The Illuminating Day Serum also features a light-reflecting pigment to give skin a glowing, radiant look.
• Argireline Peptide – Reduces the appearance of wrinkles associated with repetitive facial expressions, especially in the forehead and around the eyes
• Hyaluronic Acid (HA) – Improves the appearance of sagging, drooping skin by helping it to look plump and tight
• Red Clover – Minimizes the appearance of pores by reducing oil accumulation and pore debris
• Niacinamide – Helps with skin brightening
• Eyeseryl Peptide – Reduces the appearance of puffiness and dark circles under the eyes
• Ceramides – Help to lock in moisture and reduce the appearance of wrinkles
Restore While You Sleep.
Joyome Intensive Overnight Repair simplifies your nighttime skincare routine while providing maximum benefits to the skin with five active ingredients. Targeting the appearance of the telltale signs of aging like deep lines and dark spots with powerful ingredients such as Retinoid Ester and Azelaic Acid, the Intensive Overnight Repair helps you wake up to skin that looks firmer, lushly moisturized, and beautifully smooth.
• Retinoid Ester – Reduces the appearance of deep lines and wrinkles, visible age spots, and renews the appearance of skin plumpness, elasticity and hydration
• Matrixyl Peptide – Helps to fill and smooth the skin
• Azelaic Acid – Visibly fades the appearance of redness, age spots and improves the look of skin texture to reveal luminous, radiant skin
• Lactic Acid – Helps exfoliate dead surface cells leading to more radiant, smooth, glowing skin
• Bakuchiol – Conditions the skin and helps to improve skin clarity
Real Benefits, Delivered straight to your skin.
Plexus Joyome Ingredients do nothing if they're left resting on the skin's surface.
Other brands struggle to overcome this challenge but Joyome™ utilizes a first-to-market, patented system. The HydraLipid Delivery System increases the absorption of active ingredients, transporting them to where they're needed most.
Plexus Joyome's HydraLipid Delivery System utilizes highly absorbable molecules of plant-derived lipids that act as carriers for active ingredients.




Safely transported through the skin's tough outer layer, Joyome's anti-aging actives are then released so they can begin fighting the visible signs of aging.

HydraLipid is a natural-origin ingredient derived from green, sustainable processes. It is one of the first natural emulsifying agents on the market and is safer and more gentle compared to other products that use synthetic delivery ingredients.
Consciously Clean.
Plexus Joyome Ingredients You'll Like,
for Skincare You'll Love.
Everyone deserves anti-aging skincare products that are not only exceptionally effective, but also remarkably safe. With Plexus Joyome Skincare, we went above and beyond the world's highest safety standards when deciding what to include in our innovative serums, so you never have to compromise effectiveness for safety.
Take a look at the facts most skincare companies don't want you to see.

• Only 20% of the 12,500 ingredients the FDA allows to be used in personal care products have been evaluated for safety.
• Over 1,300 ingredients have been banned in the EU but only a few have been banned in the U.S., meaning U.S. companies can put nearly any chemical into their products.
• Chemicals like phthalates and parabens can cause hormonal disruption and reproductive issues.
• Contaminants like 1,4-Dioxane, formaldehyde, coal tar, benzene and others are potential carcinogens. It's enough to make you wonder, "What I am putting on my skin?"

However, as we've worked to make Joyome as safe and clean as possible, we've not only left out every ingredient on the EU's banned list, but we've left out over 1,300 other  questionable ingredients as well. The result?

Our "Absolutely Not" List
The "Absolutely Not" list includes many common skincare ingredients that we deemed not worthy of Joyˉome—or of your skin. Take a peek at some of the ones you may have heard of…
BHA and BHT
Ethanolamines
Hydroquinone
Parabens (methyl-, isobutyl-, propyl-, and others)
Phthalates (DBP, DEHP, DEP, and others)
Propylene Glycol (PEG compounds)
Sulfates
Synthetic Fragrances
GMOs
Plus More Than 1,300 Others
We don't compromise on safety—and we don't compromise on strength. Joyome's ingredients aren't only uncommonly clean, they're uncommonly powerful, producing visible results with carefully selected actives that are as effective as they are safe.
The Other Microbiome
Keeping your gut microbiome healthy is crucial to your overall health and happiness. Similarly, your skin's microbiome—the microbes that live on your skin, rather than inside your body — play a vital role in keeping your skin feeling balanced and looking beautiful. Keeping your skin's good and bad microbes in balance can help protect your skin from environmental age accelerators, while also working to keep skin moisturized, youthful-looking, and radiant.
Advanced Aging
We're all born with a flourishing skin microbiome, but age changes the balance of your skin.
When we're young, beneficial microbes abound, resulting in skin that's luminous, supple, and soft as a baby's… well, you know. But as we age, the balance of microbes shifts, weakening the skin barrier and leaving skin prone to accelerated aging including uneven texture and loss of moisture.
The key to protecting skin from this natural aging process?
Keeping your microbiome in balance with ingredients that impede the adhesion of harmful microbes while helping beneficial ones to flourish.
Major Innovation. Major Results.
Joyome's patent-pending Microbiome Balancing Complex brings a revolutionary approach to skincare that uses your skin's natural beneficial microbes to achieve visible results. This carefully formulated blend of polyphenols and prebiotics works to bring your skin microbiome into balance. In fact, the Microbiome 
Balancing Complex has been scientifically demonstrated to increase the growth of beneficial microbe S. epidermidis and crowd out the damaging microbe S. aureus. S. epidermidis is a beneficial skin microbe that works to replenish the skin barrier, allowing the skin to retain moisture while protecting it from damaging environmental factors.
Meanwhile, S. aureus weakens the skin barrier, making it susceptible to dryness and dullness. Beta-glucan in the Microbiome Balancing Complex in Joyˉome impedes this harmful microbe from adhering to the skin, further protecting the skin from damage.
Plexus' patent-pending Microbiome Balancing Complex is featured in both the Illuminating Day Serum and the Intensive Overnight Repair.
The result? Nourished, balanced, beautiful skin.
Plexus Joyome Skincare Primary Benefits:
Joyome Illuminating Day Serum
• Relaxes and softens the appearance of expression lines like crow's feet, forehead and smile lines

• Adds the appearance of plumpness and volume to tired skin
• Minimizes the look of pores for refined skin texture
• Enhances brightness and radiance
• Reduces the appearance of dark circles and eye puffiness
• Controls oil for a luminous matte finish
• Quenches and rehydrates thirsty skin
• Supports a strong skin barrier to help protect against environmental age accelerators
Joyome Intensive Overnight Repair
• Reduces the appearance of deep lines and wrinkles
• Promotes firm-looking skin and elasticity
• Gently resurfaces for smoother, more radiant-looking skin
• Diminishes the appearance of age spots
• Calms irritated skin for more even tone
• Improves skin clarity
• Lushly moisturizing
• Defends against harmful environmental aggressors by supporting skin barrier strength
The Plexus Joyome Skincare Advantage:
• Clinically studied levels of 11 premium anti-aging ingredients
• Exclusive Microbiome Balancing Complex
• Simplified two-step regimen
• First-to-market HydraLipid Delivery System transports ingredients deep within the skin
• Safe and clean ingredients (NO parabens, phthalates, sodium lauryl sulfate, artificial dyes, or artificial fragrances)
• Effective yet non-irritating Retinoid Ester
• 60-day 'empty bottle' guarantee: Use it up – all of it!
If you don't see a difference, just let us know within 60 days of purchase and you'll receive a full refund.
It's the ultimate, no-risk 60-day trial!
Who should use this product?
Plexus Joyome is a revolutionary approach to skincare, utilizing technology that directly fights the visible signs of aging and balances the skin microbiome to protect against future damage. If you're looking for a new, gentle-yet-effective skincare regimen, Joyome is for you.
The Inner Beauty Connection
While Joyome's eleven active ingredients and Microbiome Balancing Complex are hard at work correcting the visible signs of aging and replenishing your skin barrier at the surface, you can support youthful radiance from the inside out as well.
Plexus offers a wide variety of products to supplement total health, many of which have skin beautifying benefits.
Plexus Slim ® is a refreshing drink featuring a premium microbiome activating formula that is clinically demonstrated to improve your gut health and promote weight loss.◊  But in addition, Plexus Slim can help moisturize and hydrate the skin, maintain healthy pH levels and promote skin-supporting fatty acids.*
Plexus Xfactor Plus ™ contains premium, bioavailable forms of key nutrients, a high-potency B vitamin complex, and a gut-protecting polyphenol blend. But it also has skin lightening benefits, vitamin C to help maintain healthy collagen levels and provides protection from environmental damage caused by the sun and free radicals.*
◊ Participants in an independent, randomized, double-blind, placebo-controlled, human clinical study who used one pack of Slim per day lost an average of 5.45 pounds in 8 weeks, while the placebo group lost an average of 3.12 pounds. Although this difference was not substantially significant (p=0.05), there
was a trend to weight decrease with Slim group (p=0.059)
Find out more about our Joyome Face Cleanser HERE
Plexus Products for Holistic Health and Wellness
---
The Plexus Preferred Customer program
Try Plexus Products Risk-Free! 60-Day Money Back Guarantee
We are 100% committed to your health and happiness, and want your  absolute satisfaction as a Plexus customer. If you are unsatisfied with  a product, you have a full 60 days from the date of purchase to request  a full, prompt refund. No hassles, no questions.
Please note:
This guarantee can only be used once per product and excludes certain promotional items.
Or call independent Plexus Ambassador,
Michelle Exley at (573) 275-9995 to place your order over the phone.