PLEXUS MegaKids MICROBIOME
---
PLEXUS MegaKids MICROBIOME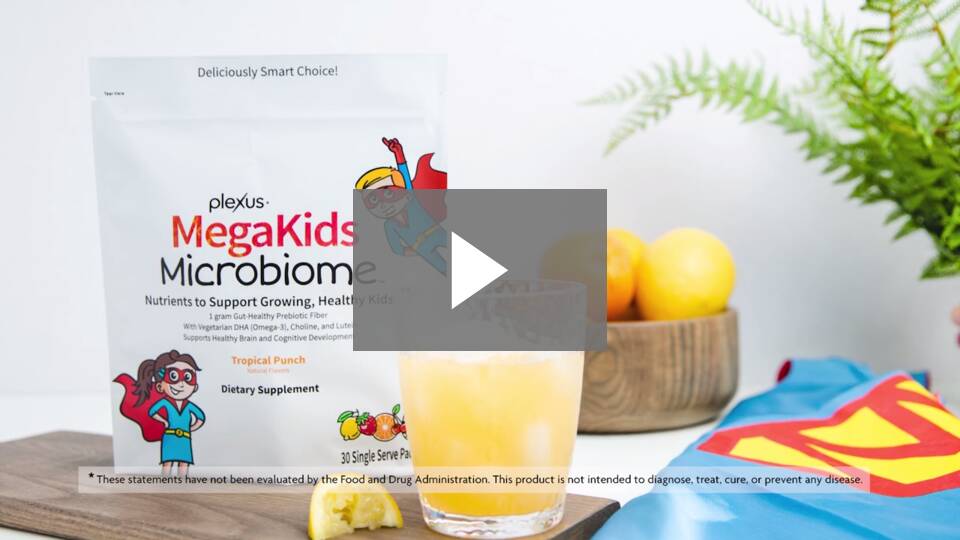 Video: The Science Behind MegaKids Microbiome™
Benefits:
MegaKids Microbiome
Supports healthy brain and cognitive development*

1 gram of gut-healthy prebiotic fiber per serving*

Convenient, nutritious, and enjoyable way to ensure your kid receives DHA on a daily basis

Enriched with a unique blend of brain nurturing ingredients*

Nutrients to support growing, healthy kids*

No fishy taste!

Supplements many nutrient gaps in kids' diets*

Provides Lutein, an important nutrient that helps support cognitive function in kids*

Dietary DHA intake is associated with cognitive function and behavior in young kids*




Good source of Choline*
Features:
MegaKids Microbiome
1 gram gut-healthy prebiotic fiber per serving

Includes DHA (Omega-3), Choline, and LuteinProvides 50 mg of sustainably sourced, Vegetarian DHA (long-chain Omega-3 fatty acid)

Gluten Free, Vegetarian, and Non-

GMO

No artificial colors, flavors, sweeteners, or preservatives
How to Use:
MegaKids Microbiome
For children 2 years of age and older, tear open stick and mix with 4 fl. oz. of water once or twice daily, or as directed by your pediatrician or health care practitioner. Powder can also be mixed with food or drink of choice.
Featured Ingredients:
MegaKids Microbiome
Docosahexaenoic Acid (DHA) (from algae) – A very long chain omega-3 polyunsaturated fatty acid (VLCFA); DHA is a critical nutrient for brain development*
Lutein (from Tagetes erecta or Marigold) – An antioxidant that belongs to the carotenoid group; Lutein is important for maintaining eye health*
Choline (as Choline Bitartrate) – An essential nitrogen-containing nutrient needed for proper brain health and necessary for healthy cell membranes*
Prebiotic Fiber – Food ingredients that promote the growth of beneficial bacteria in the gut*
Hydrolyzed Guar Gum – An indigestible prebiotic fiber that has been show to enhance the growth of helpful gut microbes Bifidobacterium and Lactobacillus spp.*
*These statements have not been evaluated by the Food and Drug Administration. These products are not intended to diagnose, treat, cure, or prevent any disease.
---
Try Plexus XFactor Plus too!
Plexus Products for Holistic Health and Wellness
---
Order your Plexus MegaKids Microbiome today ~
Your kids will thank you for it tomorrow.
---
The Plexus Preferred Customer program
Try Plexus Products Risk-Free! 
60-Day Money Back Guarantee
We are 100% committed to your health and happiness, and want your  absolute satisfaction as a Plexus customer. If you are unsatisfied with  a product, you have a full 60 days from the date of purchase to request  a full, prompt refund. No hassles, no questions.
Please note:
This guarantee can only be used once per product and excludes certain promotional items.
ORDER today!
Or call independent Plexus Ambassador,
Michelle Exley at (573) 275-9995 to place your order over the phone.