PLEXUS SLIM HUNGER CONTROL formula REALLY WORKS to control your hunger throughout the day!
---
Plexus Slim Hunger Control
Less Hunger. More Control ™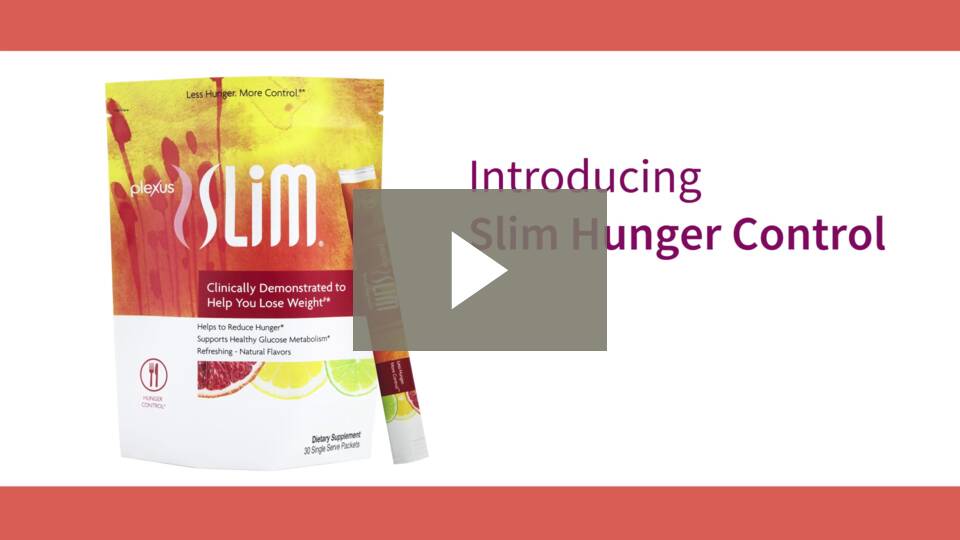 Video: Introducing Slim Hunger Control
Get control over the temptation to snack or grab that sinful dessert with the help from Slim Hunger Control. Only 20 calories, its blood orange, lemon-lime flavor is the perfect drink to enjoy before and in between meals. It's power-packed with a fiber that keeps you feeling fuller, longer. By experiencing less hunger, it can help you shed those extra pounds by reducing your desire to overeat. Slim Hunger Control also supports a healthy glucose metabolism and is clinically demonstrated to help you lose weight *
Benefits

Clinically demonstrated to help you lose weight*
Helps to reduce hunger*
Supports healthy glucose metabolism*
Features
Delicious blood orange, lemon, lime flavor.
No artificial sweeteners, flavors, or preservatives. Tastes great!
Only 20 Calories.
30 single serve packets for on-the-go convenience.
Gluten Free.
100% Vegetarian.
Non-GMO.
Usage
Pour one packet of Slim into 12-20 ounces of water, shake well, and drink 30-60 minutes before a meal. Use Slim Hunger Control 1 – 2 times per day.
---
GLUTEN FREE  /  100% VEGETARIAN  /  NON-GMO
---
Slim Hunger Control Featured Ingredients
Polydextrose A low-calorie soluble fiber that takes up space in the stomach and leaves slowly, helping you feel full longer.*
Green Coffee Bean Extract A naturally-derived extract that can help decrease the absorption of sugars and thereby supports a healthy glucose metabolism.*
Chromium Polynicotinate An essential trace mineral that transports glucose into cells.*
Plexus Slim Hunger Control Ingredients
Try Plexus Slim with Prebiotics too! Click HERE
---
The Plexus Preferred Customer program
Try Plexus Products Risk-Free!
60-Day Money Back Guarantee
We are 100% committed to your health and happiness, and want your absolute satisfaction as a Plexus customer. If you are unsatisfied with a product, you have a full 60 days from the date of purchase to request a full, prompt refund. No hassles, no questions.
Please note:
This guarantee can only be used once per product and excludes certain promotional items. If you have purchased a Plexus product directly from an Ambassador (not on the internet or by phone), your Ambassador will issue a refund to you.
ORDER Plexus Slim Hunger Control today!
Or call independent Plexus Ambassador,
Michelle Exley at (573) 275-9995 to place your order over the phone.